Ever since I put on my braces I've been learning to take care of my teeth more. Yes, it's a chore to do it sometimes, and I've got loads of excuses prepared for it too. There's the, "I'm late for work already!" and the "I need to get to sleep, I'm too tired~". But still, doesn't stop me from trying to do more! :D
Thanks to Nuffnang and Darlie, I got to try 2 of their new stuff!
1. Darlie Expert White toothpaste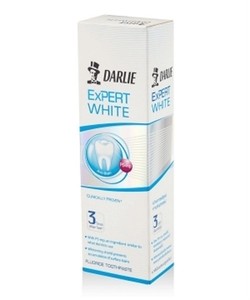 So many plus points to this toothpaste!
- Helps prevent up to 80% of stain and tartar accumulation
- Contains PS-mp ingredient that helps to make teeth 3 times whiter
- A research has been done to prove that 88% of respondent agree on its Professional Whitening Effects
It's available at an affordable price of $5.90 for 120g! (Cheaper than going for whitening)
2. Darlie Charcoal Spiral Toothbrush

Look how tiny the bristles are!
I actually bought this toothbrush to use before getting the advertorial! I like that the bristles look tiny and soft! As I was using an electronic toothbrush previously (recommended for braces), I find that it did not make me feel that I've brushed very thoroughly. However, with the Darlie Charcoal Spiral Toothbrush, I do a "once through" my teeth and feel that they're clean!
The Darlie Charcoal Spiral Toothbrush also has many plus points!
- Binchotan charcoal can prevent bacteria growth
- Helps to remove plaque
- Very slim tip bristles to clean between the gaps (good for us braces wearers too!)
- Feels extremely soft and comfortable to use
- Does not hurt the gums and feel suitable for sensitive gums (my gums bleed easily and I feel that they have improved after brushing with this)
It's important to use a toothpaste that acts like a sunblock for our teeth! Don't tell me you only eat "white" food for all your meals? Things like tea, chocolate, sauces, can stain our teeth, and spoil that beautiful set of teeth! I believe the Darlie Expert White toothpaste is the best "sunblock" in the market for our teeth!
Used together with the Darlie Charcoal Spiral Toothbrush, you can give your set of soon-to-be pearlie whites a good "spa day"! I used to be really lazy to brush my teeth (I know! Bad girl…) But now I actually spend a longer time at the sink brushing my teeth because it feels good to do so now. :b
Don't expect overnight results though, it isn't like doing whitening at the dentist's. However, with regular brushing with the Darlie Expert White toothpaste, the results will be clear. (Crystal WHITE clear. Heh.)
Anyway, here's a video showing how effective the Darlie Expert White toothpaste is, when compared to my previous toothpaste!
Pretty amazing toothpaste as you can see! Hopefully my braces get off soon so I can see them in Expert White! :D